Bathroom Renovations Franchise Startup Costs, Process, Investment, Resources & ROI
Posted on 6 December 2018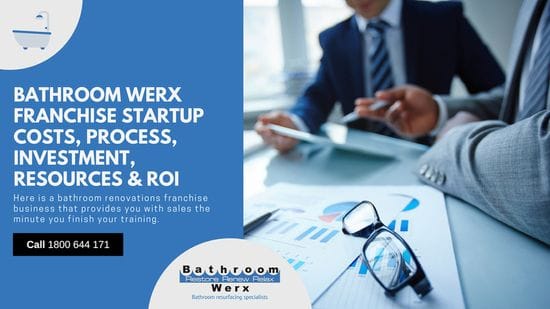 Here's a Franchise Business that provides you with sales the minute you finish your training!
At Bathroom Werx, our franchisees are so inundated with work that their dairies are regularly fully booked up to 10 days in advance. Huge demand, unmatched competitive advantage and 25 years' experience!
The secret to the success of Bathroom Werx is their unique technology that allows bathrooms to be restored to 'as-good-as-new' condition in as little as one day at half the cost of a normal renovation.
Demand is so high that our franchisees Australia-wide are continually booked out for weeks ahead.
A hassle-free business with huge potential to grow!
Comprehensive head office support minimises your on-and-off-the road paperwork. Advertising, quoting and booking is centralised, meaning there's no need to chase work, book ads or invent marketing campaigns. We'll even collect debts on your behalf or mind your business when you want a holiday.
Rather than creating scores of one-person operations, we assist you to recruit and train apprentices through our own Registered Training Organisation which has a nationally recognised apprenticeship training program, so you can transform your business into a multi-van operation with massive earnings potential.
Our 'Three Tiers in Five Years Business Plan' will grow your business from 'a man in a van' operation to a business owner managing your own team of Bathroom Experts!
A Bathroom Werx Franchise is only $45,000 and provides you with the following:
Comprehensive four-week RTO training program
All plant, equipment and starting stock
Uniforms, stationery, and vehicle sign writing.
When you have finished your training, Bathroom Werx will:
Schedule and confirm all your jobs for you each day
Invoice and collect debts on your behalf
Answer all telephone enquiries
Carry out all advertising and marketing
Leaving you free to concentrate on "making an old bathroom look like new again" for your customers. Most Franchisees have a return of their investment in under one year!
You need to provide:
A suitable vehicle
Working capital
You own insurances
Mobile phone, computer and internet connection
Business and legal fees to enter into a Franchise Agreement.
And most importantly a desire and determination to be in business for yourself and to be part of a professional team that is the leader in bathroom renovation in Australia!