Things To Know Before Buying A Franchise In Australia from Bathroom Werx
Posted on 4 December 2018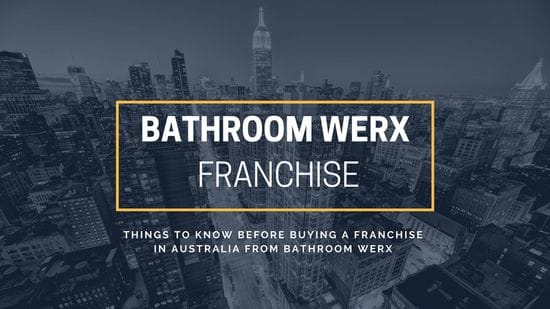 The bathroom business that's so confident in its method it has a great deal on offer for franchisees.
Make money while your franchisor runs the office. That's the offer from Bathroom Werx, which wants franchisees to get on with the day to day work of the business making old bathrooms look as good as new.
Every year, Australians are spending billions of dollars on home improvements which also includes bathroom renovations. Since 1986, Bathroom Werx has been tapping into this market.
One of the things that attracted Wollongong franchisee Matt Humphrey to the brand was the fact he did not have to set up an expensive infrastructure to run his business.
There's no need for an office set-up with phones, desks, computers, fax machines, etc. Everything is run from the Melbourne call centre and they inform me of any jobs or quotes I have to do each day, says Humphrey.
They also send out invoices for any commercial jobs I do and chase up debtors for me. This means when I get home after work, I can relax with my family without the worry of any admin work.
The Bathroom Werx franchise system has been designed to maximise the productive capacity of each franchise each week, so they can make more money.
George Yammouni, Bathroom Werx CEO, points out the restraints that prevent this from happening are marketing and operational issues like confirming jobs, answering phones, sending out marketing materials, and following up on quotes done.
In this franchise, centralised calls from across the country are managed by Melbourne head office, and a unique booking system means customers are given an exact time and date when they can expect their franchisee to arrive.
Yammouni says, "Franchisees have given us access to their daily calendars, so we can respond immediately to a customer's request for a job or a quote appointment with a definite time and date.
This level of service impresses customers who are not used to this sort of service when dealing with the trades.
Most times you have to leave a message and then wait for someone to call you back. And the other frustrating thing that people often experience is that if you do book in a job or a quote, you are told that someone will be there between 8 am and 12 pm or sometime in the afternoon so you end up having to take a day off work.
The business goal is to deliver a good service that promotes a high referral rate.
MAKEOVER POTENTIAL
It's more than three decades since the business was established and Yammouni is still excited about the growth potential.
We have seen the number of bathrooms out there continually increase each year since we first started in 1986. The explosion in apartment buildings all over Australia has been massive, as well as the enormous growth of hotel rooms and holiday resorts.
He says the Australian renovation boom fuelled by TV shows and property prices has helped business.
A makeover is a great alternative to expensive bathroom renovations and saves people thousands of dollars. The work is done quickly, in days, not weeks, and the results are as good as new especially as we back it with a 7 year written guarantee.
Bathroom Werx has researched, developed and manufactured its own ceramic resurfacing enamel together with the equipment necessary to carry out the process. The Australian made Werx Enamel is specifically formulated for bathroom sanitary ware and has passed international standards testing by the CSIRO, he adds.
Franchisees with basic handyman skills who enjoy sprucing up tired and worn out bathroom units can tap into this market, right now benefiting from an interest-free loan and finance of up to 50 per cent of the franchise fee of $45,000 on a 5-year loan subject to lender approval.
The low-cost franchise fee includes plant, equipment, stock, uniforms, stationery and a four-week training course.