Who says I'm too old to do bathrooms?
Posted on 1 March 2015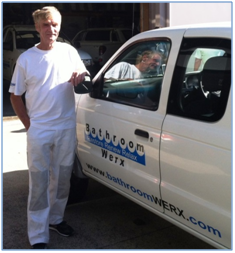 Rin Donker is 62 years old and is enjoying every minute running his new Bathroom Werx franchise in the Shepparton region of Victoria.
"Making old bathrooms look like new has been a sea change for me compared to what I have been doing for the last 15 years. And the work is a breeze - I am really enjoying it," says Rin.
"And I love the great feedback from Customers who can't believe the transformation."
Before acquiring the Bathroom Werx Franchise for Shepparton, Rin worked at the Bega Cheese factory in Strathmerton for the last 15 years as a shift worker. He had many roles there including machine operator and fork lift driver.
After 15 years of shift work, Rin decided he wanted to a normal life again and started looking for a business to buy. At the time they were renovating their bathroom and had Bathroom Werx restore their shower base for them.
Rin was that impressed with what he saw, that he eventually bought the franchise for Shepparton.
"It is something I can do and something I like to do. I like restoring things and this suits me perfectly. The backup and support provided by Bathroom Werx is excellent and also helped me to make up my mind to buy the franchise as well.
I don't need an office or showroom or expensive infrastructure. Everything is done for me at head office and I can get on with making my Customers happy and restoring their bathrooms back to new. It doesn't get any easier than that to run a business."
Have previously owned a Laundry business and a Car Detailing business, Rin knows the work that goes on in the back office behind the scenes to make things work. Rin's, wife Jan, has supported him all the way and even encouraged him to get into it.
"I could see that Rin enjoyed doing the work and after seeing the transformation of our shower I was pretty excited about the opportunity as well," says Jan. Don't mention Rin's age to him he's fit, healthy and still feels like a 40 year old. "Work keeps me young and I love it!" says Rin.